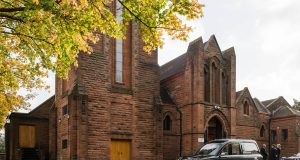 We regret that for the duration of the COVID crisis we are no longer able to carry coffins into the chapel in the traditional way. We are now asking funeral directors to arrive at the double doors at the front of the chapel and place the coffin on the lowered catafalque, which we will raise to the chapel level prior to the immediate family entering the chapel for the funeral service. Unfortunately this means it is only funeral director's staff who will be able to carry the coffin.
We appreciate this will be very upsetting for families and ask that they please understand we are implementing this policy to keep everyone safe during these unprecedented times.
At the same time we can no longer advise extended family and friends to congregate outside to hear the service over the speakers.  This has led to larger numbers coming to services and goes against public health advice.